Ethernut IDE Interface
Many people asked for, Michael Fischer finally did it. This add-on board offers new solutions by attaching mass storage devices to the Ethernut. Michael also provided the software including a FAT file system, which is already part of the current release.
This page offers a first look to the original prototype. Click on the pictures to get a larger view.
The latest information is available at www.usbdip.de
Top View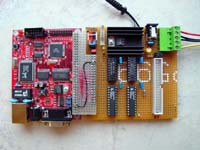 INT7 and PD5 is used from the Ethernut board for the IDE IRQ and IDE Reset.
Bottom View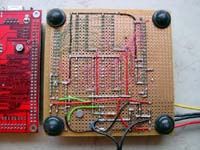 CF Adapter
Schematics
Board Layout
Two Ethernut Expansion Connectors are available. X1 (female) is mounted on the bottom of the board and pointing down to mount the IDE board on top of Ethernut. X2 (male) is pointing up and can be used to add another board on top, like the Medianut MP3 board.
This design is outdated. The final board will use a Xilinx CPLD.