Hardware/Ethernuts
From Nutwiki
Ethernut Reference Boards
Ethernut 1
The minimalist design of Ethernut 1 had been reduced to four essential components: ATmega128 Flash Microcontroller, 32 kBytes RAM, RTL8019AS 10Mbit Ethernet Controller and Power Supply. More...
Ethernut 2
Ethernut 2 uses the same CPU as its predecessor, but provides 100Mbit Ethernet, 512 kBytes RAM and an RS-485 interface. All parts are available for industrial temperature range. More...
Ethernut 3
This is the first Ethernut board with 32-bit ARM CPU. More...
Ethernut 5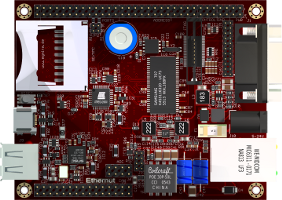 This latest board runs Nut/OS as well as Linux. More...
Trademark
All published reference designs are released as Open Source and may be freely used for private or commercial purposes. However, when used for commercial purposes, be aware that Ethernut is a registered trademark of egnite GmbH. Thus, you need to create your own product name.